Confessions of a Copier Dealer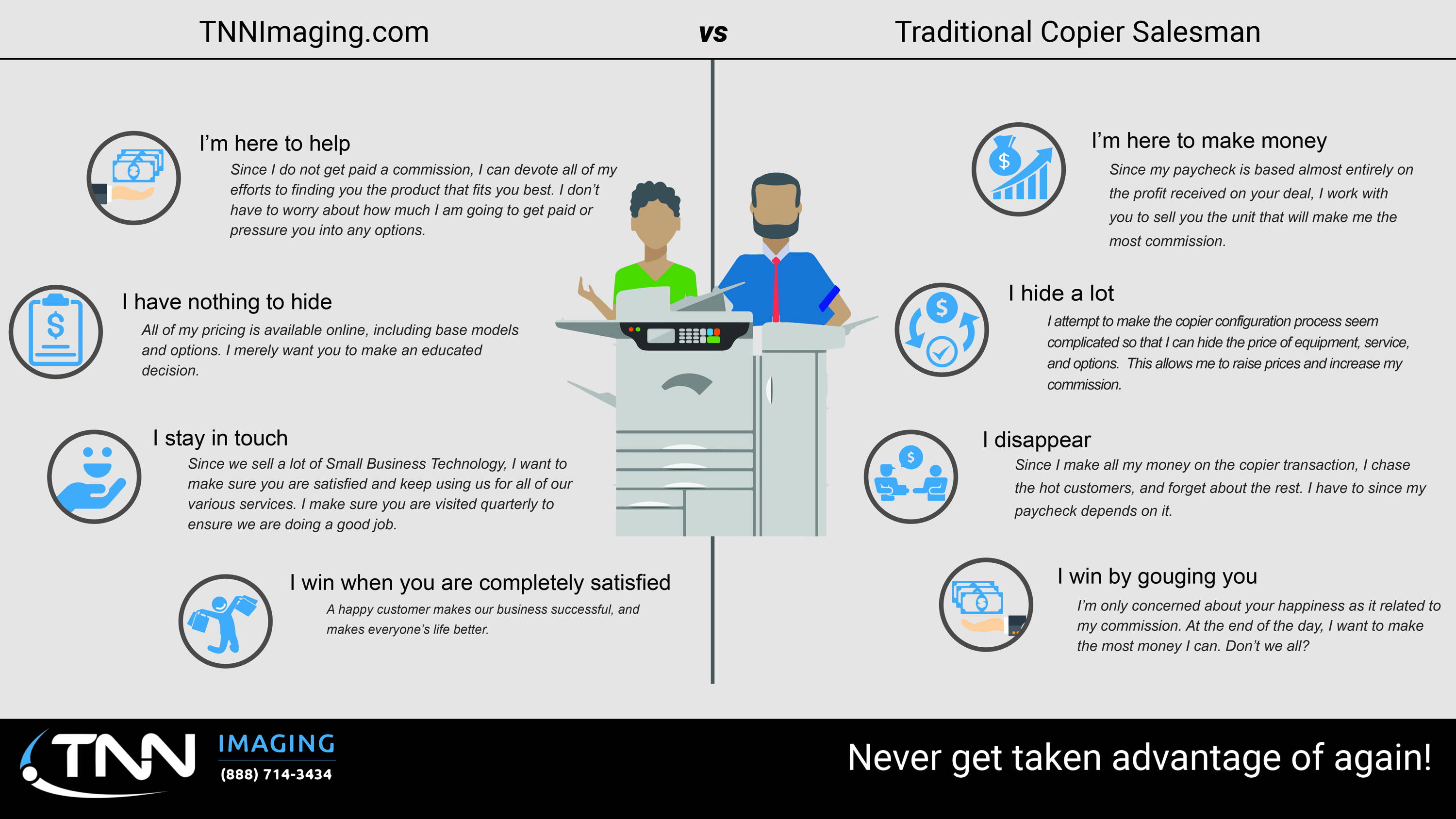 To those who are interested,
              TNN took over a 50-year old copier dealership (Office Works/Desert Stationers) in April of 2015. We inherited a set of business practices that disturbed us from the beginning. The standard practice of the industry is to take advantage of its customers, plain and simple. Everything in the above infographic is true. Initially, we tried to work within the system, but in the end, we fired all of our commission-based sales representatives.  
              We are now embracing a new approach with transparent, competitive pricing and salaried customer service representatives, with no gross profit based incentives. In the past, our Sales Representatives were paid a split of the gross profit on every transaction. Since this is how every other copier dealership still works, we never published any real pricing, because if we did, we couldn't gouge (or re-gouge) a customer that came to the table. We hid behind a seemingly complex process of building a copier, and guised our activities as merely "trying to get you the right equipment".
              We, along with the entire industry, tricked our customers. We would put our service contract into the lease, so that our customers couldn't switch vendors without buying out our service contract. We would base our sales price off of their previous machine's payment. We were in it for the profit of the single deal. Copier dealerships operate just like used car lots. They look at the car someone drives in with, what they are wearing, how much they make, and then play a cat-and-mouse game of trying to sell our copiers for the highest profit. We are embracing a completely new sales strategy.
              We are the first, and currently the only, copier dealership with transparent, competitive pricing. The day of the commission-based copier rep is dying. The entire industry is trying to fight commoditization. Instead of fighting it, we've decided to embrace it. We look forward to this new era of honesty, integrity, and transparency and hope that you enjoy the easiest copier buying experience of your life.
Sincerely,
Justin L. Brown
COO/Founding Member